BAGUIO CITY – The sound of the solibao or ganza is probably not what you would expect to hear in the heart of Davao City, where the kulintang and agung are more familiar. But last May 20, the usual melodies of the highlands of the Cordillera reverberated throughout the SM Ecoland Atrium as the art group Tabula Rasa of Davao and Pasakalye Art Project of Baguio City opened the two week Cordillera-Mindanao Art Exchange exhibit.
The art exchange was a brain-child of two alumni of the University of Sto. Tomas who met up last February during the 22nd edition of the Baguio world famous Panagbenga (or Baguio Flower) Festival. Art Tibaldo, a Baguio artists dabbing in photography, film, oil and canvass, as well as the stage, and Davawenyo Daryl de Leon Descallar, and one of the pillars of Tabula Rasa, decided then and there to make the art scene of both cities more accessible to the other.
And last May 20's Davao opening was the result of that chance meeting among school-mates.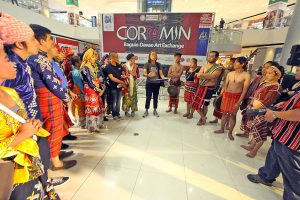 The Cordillera-Mindanao Art Exchange (Cor-Min for short) seeks to bridge the distance between the two cities which is 1,174 kilometers apart. Fourteen mainstays of Pasakalye Art Project took the exciting but demanding journey to Davao for the first of the exchanges.
Aside from Tibaldo, on hand to carry Cordillera pride were: visual artists Raquel Diokno, Alma Evita Maniego, Joseph Domirez, Oliver Abuan, Marlu Nga-oy, Carl Taawan, Lito Malaggay, Gerald Osbucan, Tor Sagud, and Alex Musni; and performance artists Florenda Pedro, Abigail Matib, Maricar Docyogen, Angelo Docyogen and Gerwin Libatique.
They brought with them art works from Roland Bay-an, Buddy Cabrera, and Jordan Mango-san aside from the canvasses of armless and legless painter Alex Musni, who also made an impromptu painting session during the three-day visit of the Cordillera artists.
Descallar said they have long admired works of Baguio based artists and he, together with other Davao-based artists, wanted to share the Cordillera works to the Davao public.
In return Maricar Docyogen of the Barista Creative that brought the Baguio artists to Davao, with ample support from Air Asia, Davies Paints, Tiong San Bazaar, Diznee Travel and Tours, took the opportunity as a way to further expose the Baguio artists, especially the younger and up and coming artists of Pasa-Kalye Art Project, to meet their counterparts at the southern end of the Philippines.
Descallar added, "The Cor-Min event began when I met Cyr Bagayao from the Public Relations office of the Philippine Military Academy. He connected me with Art Tibaldo and we hit it off after knowing that we both are Fine Arts Graduates of UST. And friendships of the two cities in the art field began. The CORMIN event was a successful activity for the Cordillera and the Davao artists at SM Ecoland in Davao during the event."
For his part, Tibaldo said "art encounter between Baguio and Davao artists in Mindanao proved that regional talents can pull a twinning and reciprocal activity."
The Office of Congressman Marquez Go, Office of the Civil Defense (OCD-CAR), Department of Tourism (DOT-CAR) and countless individuals and groups also contributed in one way or another to bring the successful Cordillera party to Davao.
When the Baguio group left Davao, they brought back home with them good memories and dreams. This was the first time that Baguio artists could present their work in Davao City and that too left indelible memories in the hearts of both groups, enlarging their visions and widened their dreams to do more of these to enhance art and culture between north and south.
This activity doesn't end with the return trip to Baguio. Davao artists will be visiting Baguio on the first week of September this year for Baguio Day.
"We look forward to closer relationships as both are sister cities," Tabula Raza Artist Group president Descallar enthused as the Cordillera group departed.
"I am sure that our September 2017 hosting of our counterparts from Davao will give that 'eureka effect' of expecting the unexpected which is definitely a must see," Tibaldo added. JJ Landingin / ABN