BAGUIO CITY – The annual celebration of the Gibraltar Senior Citizen Association (GSCA) is to recognize the beautiful and handsome elderlies who are always so actively participating in the activities and events in barangay Gibraltar.
The program was welcomed by GSCA president Reynaldo Roldan and the inspirational talk by Punong Barangay Eduard Aclopen.
The winning candidates as Reigning Lola Beauties of Barangay Gibraltar are (from l-r) Bernadita Bianan, Purok VI (Mrs Hope); Estelita Carpio, Purok IV-West (Mrs Charity); Josie Soliven, Purok III (Mrs Love); Mrs Warlita Fokno, Purok V (Her Majesty Queen); Angelita Tomeldan, Purok I & II (2nd Princess); and Regina Manganey, Purok V (1st Princess) who are all escorted by their loved ones.
Witnessed with the guest speaker, Baguio City Representative Mark O. Go (5th from left), Councilor Leandro Yangot (4th from l), Barangay Kagawad Grace Mayos, Soledad Go and GSCA President Reynaldo Roldan.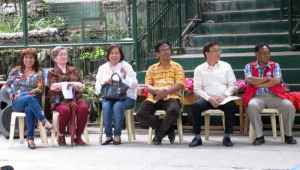 The pinning of sash and giving of bouquet, assisted by Congressman Go with spouse Sol, for Her Majesty Queen Warlita Fokno was followed by crowning her with the assistance of Vice-mayor Edison Bilog with the escort Warry Fokno and Shirley F. Boco (husband and daughter) during the 23rd Anniversary of the Gibraltar Senior Citizens Association and Coronation of Super lolas last May 6, 2017 at Gibraltar barangay covered court with the theme "GSCA on the Verge of Change to progress."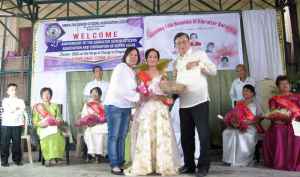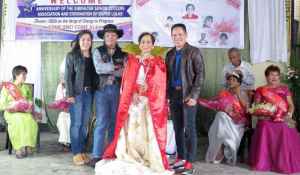 The newly elected officers are: Pres. -Reynaldo Roldan, Vice-president -Paula Remiendo, Secretary- Josephine Flores, Asst. Sec.- Josephine Ngolab, Treasurer- Regina Mangangey, Auditor-Kag Jaime Balao P.R.O.- Elsie Godoy, Business Managers- Fely Macawili, Lucia Malecdan, Telesforo Ramos and Marcelo Opiana, Sgt at Arms: Warlita Fokno, Alfredo Bianan, Rosela Barlaan and Marcos Palla. MAR OCLAMAN and CARLOS MENESES / ABN